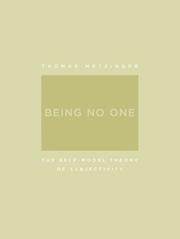 Being No One - The Self-Model Theory of Subjectivity by Thomas Metzinger - ISBN 0262633086 - The MIT Press 2004
Motivation
See The Ego Tunnel + watched his 2005 Being No One UC Berkeley conference + BBC documentary based on Video Ergo Sum: Manipulating Bodily Self-Consciousness (including Olaf Blanke, Science 2007)
Pre-reading model
Draw a schema (using PmGraphViz or another solution) of the situation of the area in the studied domain before having read the book.
Reading
Tools used in the formalization
See BeingNoOne for the others notes.
Chapter 3 - Tools I
Chapter 5 - Tools II (focusing on self-representation)
Chapter 6 - The Representational Deep Structure of the Phenomenal First-Person Perspective
Syntactic definitions (p398 to 402)
I* content of the conscious, current transparent model of the self
[I am certain that I* exist] active phenomenal content
<I> current conscious thought is a component of the speaker's self-model
<I*> transparent partition of the self-model
[I*] content of the transparent self-model
[I* exist] decisive property of the transparent self-model
Additional key concepts
State-space semantics (SSS) introduced by Churchland (1986) p112
active externalism (AE) introduced by Andy Clark and David Chalmers (1998) p112
global workspace theory (GWT) introduced by Bernard Baars (1988) p120
highest-order binding (HOB) introduced by Meztinger (1995) p137
functional cluster index (CI) introcued by Edelman and Tononi (1996) p141

"To have an integrated, globally coherent model of the world means to create a global functional cluster, that is, an island of maximal causal density within one's own representational system." p141
(import from ReadingNotesBeingNoOne)
See also
Overall remarks and questions
does it provide a formalization that can be used to do make your own self-model?
position toward Simulacre and Simulation by Baudrillard?

not mentionned in Being No One

explictly thanking Francisco Varela in the Acknowledgments
Am I an API to myself?
could transparency be compared with the

proxy design pattern?
interface of an API?

would data flow programming encounter the same limitations?

i.e. the inability for a process to study its sub-processes live simply because of their speed of execution

http://www.AlainCardon.net work on "génération de faits de conscience artificiels avec intentionnalité"

also mentioning ethical questions
Synthesis
So in the end, it was about X and was based on Y.
Critics
Point A, B and C are debatable because of e, f and j.
Vocabulary
(:new_vocabulary_start:) new_word (:new_vocabulary_end:)
Post-reading model
Draw a schema (using PmGraphViz or another solution) of the situation of the area in the studied domain after having read the book. Link it to the pre-reading model and align the two to help easy comparison.
Categories
Back to the Menu
Other read books linking to the BeingNoOne page :
Back to the Menu