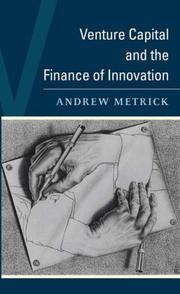 Venture Capital and the Finance of Innovation by Andrew Metrick - ISBN 0470074280 - Wiley 2007
Motivation
Working on innovation (cf Seedea:Research/Research

) and how it can become financially sustainable (cf FinancialTools) then book recommended by Sylvain (probably motivated himself by his SubMate experience and his presentation at ESSEC).
Pre-reading model
Family, friends, banks (10K) -> BusinessAngel (100K) -> VC (1M) -> corporation acquisition exit
Reading
Preface : A Reader's Guide

detailing why VCs don't necessarily focus on financial methods yet why it matters
"This book takes the perspective of a venture capitalist - not an entrepreneur." (p.x)
"This book is attempting to provide a bridge between the language of VC and the language of finance" (p.xi)
Part I: VC Basics
Part II: Total Valuation
Part III: Partial Valuation
Part IV: The Finance Of Innovation
See also
Overall remarks and questions
When should VC be avoided? How?

Can you have FIY (Fund It Yourself) innovation?

Since VC firms are well known, especially top-tiers, is it possible to get information from their portfolio to study trends?
Synthesis
So in the end, it was about X and was based on Y.
Critics
Point A, B and C are debatable because of e, f and j.
Vocabulary
(:new_vocabulary_start:) Mezzanine Financing Bridge Financing
Wikipedia:Keiretsu
(:new_vocabulary_end:)
Post-reading model
Draw a schema (using PmGraphViz or another solution) of the situation of the area in the studied domain after having read the book. Link it to the pre-reading model and align the two to help easy comparison.
Categories
Back to the Menu
Other read books linking to the VentureCapitalAndTheFinanceOfInnovation page :
Back to the Menu