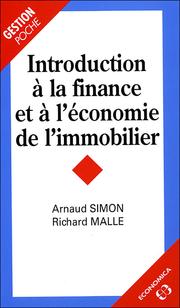 Introduction a la Finance et a l'Economie de l'Immobilier by Arnaud Simon and Richard - ISBN 2717856463 - Economica 2009
Motivation
Having to manage real estate and recommended by Sylvain.
Pre-reading model
Real estate has to be a rational investment like any other, despite it's usually long term nature and the "life bias".
Reading
Basically promoting a model inspired by finance tools applied to real estate
arguing that those recently developed quantitative tools are pervasive
several tools, especially risk management and portfolio diversification, have been discovered before in
See also
Overall remarks and questions
Synthesis
So in the end, it was about X and was based on Y.
Critics
Point A, B and C are debatable because of e, f and j.
Vocabulary
(:new_vocabulary_start:) new_word (:new_vocabulary_end:)
Post-reading model
Draw a schema (using PmGraphViz or another solution) of the situation of the area in the studied domain after having read the book. Link it to the pre-reading model and align the two to help easy comparison.
Categories
Back to the Menu
Other read books linking to the Introduction a la Finance et a l'Economie de l'Immobilier page :
Back to the Menu