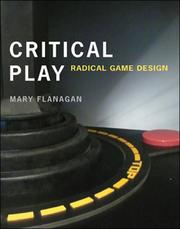 Critical Play - Radical Game Design by Mary Flanagan - ISBN 0262062682 - The MIT Press 2009
Motivation
Mentioned at ~min40 during Q&A of Cyborg Anthropology: A Short Introduction and discussed about games, simulation and reality for brains in development physiologically and cognitively with Claude the day before.
Pre-reading model
Draw a schema (using PmGraphViz or another solution) of the situation of the area in the studied domain before having read the book.
Reading
See also
Seedea:Research/Drive
Seedea:Research/StrategicalEpistemology
own projects
Wikipedia:Brian Sutton-Smith
5 Creepy Ways Video Games Are Trying to Get You Addicted by David Wong, Cracked.com March 2010
Critical Play by Mary Flanagan, TEDxDartmouth April 2010
The American Journal of Play University of Illinois Press
The Association for the Study of Play (TASP) dedicated to interdisciplinary research and theory construction concerning play throughout the world.
add ref#99 to my aphorism on philosophy as an action verb
Omnsh.org : l'Observatoire des Mondes Numériques en Sciences Humaines with plenty of links on games
SCVNGR "Go places. Do challenges. Earn points and unlock rewards!"
Jane McGonigal: Gaming Can Make a Better World by Jo-Anne Green, Networked_Performance April 2010
Games for social change by Mary Flanagan, SXSWi 2008
tiltfactor lab by Mary Flanagan

mission is to research and develop software, events, experiences, and artifacts that create rewarding, compelling interactions.

Values at Play (VAP)

research project assists and encourages designers to create computer games that identify and promote human values.

Fun is the Future: Mastering Gamification by Gabe Zichermann, Google Tech Talk October 2010
Meaningful Play: Getting Gamification Right by Sebastian Deterding, Google Tech Talk January 2011
Wikipedia:Game studies
Wikipedia:History of games
Overall remarks and questions
based on the example mentioned in Cyborg Anthropology: A Short Introduction I was expecting a conceptual framework, a mapping between games and physiological or social basis yet I did not find it in the book.

content was more oriented toward what games could be good for and a bit about the role of few during history
Synthesis
So in the end, it was about X and was based on Y.
Critics
Point A, B and C are debatable because of e, f and j.
Vocabulary
(:new_vocabulary_start:) new_word (:new_vocabulary_end:)
Post-reading model
Draw a schema (using PmGraphViz or another solution) of the situation of the area in the studied domain after having read the book. Link it to the pre-reading model and align the two to help easy comparison.
Categories
Back to the Menu