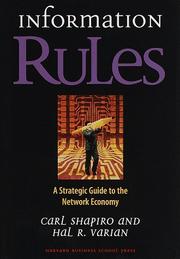 Information Rules: A Strategic Guide to the Network Economy by Carl Shapiro and Hal R. Varian - ISBN 087584863X - Harvard Business Press 1998
Motivation
Interested in CS, IT and thus in their economical ecosystem in particular regarding proprietary software vs. FLOSS or public domain vs. IP. Previously read books like Information Feudalism, The Future Of Ideas. Also appreciated Hal Varian on Combinatorial Innovation, EUXTV June 2009 and discovered Hal Varian was Chief Economist at Google. Understanding how one can handle the paradox of the attractiveness of the IT/CS industry low barrier to entry (a laptop + time) vs. the economical soundness of the investment.
Pre-reading model
Draw a schema (using PmGraphViz or another solution) of the situation of the area in the studied domain before having read the book.
Skimming
including its per chapter summary
regarding Chapter Nine: Waging a Standards War
Reading
See also
Slideshows.InformationRules made for MBE10
my generalist Economy page
Hal R. Varian professor in the School of Information, the Walter A. Haas School of Business, and the Department of Economics at the University of California at Berkeley
Carl Shapiro professor of Business Strategy, Walter A. Haas School of Business, University of California at Berkeley
Innovation, Components and Complements by Hal R. Varian, University of California Berkeley 2003
groups in which key IT players are part of
A special report on managing information: Data, data everywhere The Economist February 2010
Better Than Owning by Kevin Kelly, The Technium 2009
New Rules for the New Economy blog by Kevin Kelly, started in December 2008
Intermediate Microeconomics; A Modern Approach by Hal Varian
Strategy and the Internet by Michael E. Porter, HBS Working Knowledge 2001
Kaggle Data mining, bioinformatics and forecasting competitions

quoting Hal Varian : "I keep saying that the sexy job in the next ten years will be statisticians"

Go To University, Not For CS by Zed A. Shaw, Shedding Bikes: Programming Culture And Philosophy, June 2010

"Chances are you'll end up going to some crappy Java school that's just now realizing standardizing on one language controlled by a corporation that had no clue how to actually turn a profit was a bad idea."
"Computer science is shallow, and nearly every place it's taught is at the mercy of <<industry>>."

George Reese & James Duncan, "Are Open APIs Enough to Prevent Lock-in?", OSCON 2010
The Internet as a catalyst in Algorithmic game theory - Wikipedia

Rephrasing problems in terms of games allows the analysis of Internet-based interactions and the construction of mechanisms to meet specified demands.

Wikipedia:Information economics
Stanford courses broadcast on YouTube (by Google, Stanford alumni) and iTunes (by Apple, Stanford alumni)
EpiSPIDER demonstrates connectivity between "consumers", "producers" and "transformers" of data within an emerging information and knowledge ecosystem.
The Economics of Information by George J. Stigler, Journal of Political Economy 1961
Overall remarks and questions
the book overall questions the soundness of the business/economy education I received since it was mostly an adaptation from product based economy to the "new" information economy

according to the book this seems to be hardly the case. Classes of GE27, GE39, ... who are not really adapted to software but only partly to services might be missed key aspects

discussions

started with OpenSim requiring Mono (thus .Net specifications) on freenode/##AGI 17/06/2010 at 11am
"en fait ca parle de quoi information rules?" seedeabitlbee/Franck 17/06/2010 at 13am

once again, after Game Theory at Work and several other strategy books, one is advized to avoid the intrensic socially beneficial principles of the market

through purely rational moves :

pure competition through building monopoly, at worse, ollygopoly
price lowering through avoiding price discrimination at all

this clearly was done for more than a century (cf antitrust laws including the 1890 Sherman Act) but clearly demonstrate that the "ideal" of the market should never be confused with the actual application

political argument using thus such an idealization have to discarded as just what there are, whishful thinking with, at least currently, no easy solution

an easy way to check is to look at the corporations in each industry making the largest benefits and what patterns emerge

is it open competition? is the price lowering over time?

why did p2p became popular only during the last decade if it is an inherently efficient scaling solution? like what piece of knowledge or infrastructure was missing until then? the overhead of the protocol was too high for low bandwidth? what broke the hierarchy of The Scene?

maybe p2p as a technologically symmetric relation was always available and used but aggregative actors repetitively democratized value

up to the point where it did not scale and thus p2p emerged again
Synthesis
So in the end, it was about X and was based on Y.
Critics
Point A, B and C are debatable because of e, f and j.
Vocabulary
(:new_vocabulary_start:) new_word (:new_vocabulary_end:)
Post-reading model
Draw a schema (using PmGraphViz or another solution) of the situation of the area in the studied domain after having read the book. Link it to the pre-reading model and align the two to help easy comparison.
Categories
Back to the Menu
Other read books linking to the InformationRules page :
Back to the Menu