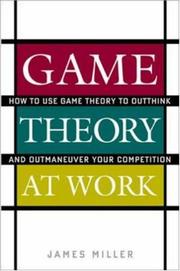 Game Theory at Work : how to use game theory to outthink and outmaneuver your competition by James D. Miller - ISBN 0071400206 - McGraw-Hill 2003
Motivation
Learning more about game theory through a straightforward application.
Pre-reading model
Draw a schema (using PmGraphViz or another solution) of the situation of the area in the studied domain before having read the book.
Reading
Core

different configurations

unique encounter (players play only one game)
repeated encounters (players play more than one game)
sequential games (players move one after the other)
simultaneous games (players move at the same time)

players must make their move while still ignorant of the move of others
each side must predict what the other is up to
coordination games (players share positive payoffs)

communication is key

positive outcome by being open, honest and trusting
trust games (coordination game with a safe course)

main risk : doubts
example : strikes

in mass coordination games

network externalities are key

once everyone has decided on a strategy, everyone benefits from continuing to play along
everyone consumer tries to match the decisions of other buyers

a product with network externalities and consumers believing it will become popular should become popular (p94)

outguessing games (opposite have mutually exclusive payoffs)

communication is impossible

always gain by successfully spying your opponent
hiding your moves is required
spread false information
negotiation are pointless

hide, never trust, and always strive to deceive
example : armies

Nash Equilibria

No player regrets his strategy, given everyone else′s move

Fixed-sum games

cooperation/negotiation is pointless as interests are diametrically opposed
example : politicians

Variable-sum games

Prisoner′s dilemma

all players ruthlessly ride their own self-interest to collective ruin

BUT one goal
tools

increase your credibility

cutting communication to increase credibility

walking away after a final offer

securing a reputation
vengeance against negative behavior

imply irrational desire for revenge if it can be beneficial (fear of perceived insanity)

reducting your options

sabotage your position to force you to move on

ex: Cortez burning its boats close to Mexico against the Aztec
advatanges

proove your motivation to yourself and others

delegating the decision ability and broadcasting it

ex: lawyers and the treshold that their clients want

chain of responsability

more effective than

random individual reponsability
group responsability

perceived value vs visible price

clients compare what they can compare

price is a simple numeric value
features are difficult to compare

price war are not sustainable

prefer competition on quality, service, brand names or product colors, everything BUT prices
if unable to compete, put complex pricing system to avoid direct price comparison

self-selecting consumers

Price discrimination based on needs

use coupons or price rebate that requires some efforts
provide premium services for consumers who favor high quality over price-sensitiveness
Note that those notes comes directly from the book. Each chapter provide end-notes called "Lessons learned" that summarizes the key aspects of each chapter.
Notes up to chapter 12 come from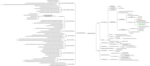 my mind mindmap, the last chapters are not in the mindmap.
See also
Overall remarks and questions
Synthesis
So in the end, it was about X and was based on Y.
Critics
Point A, B and C are debatable because of e, f and j.
Vocabulary
(:new_vocabulary_start:) new_word (:new_vocabulary_end:)
Post-reading model
Draw a schema (using PmGraphViz or another solution) of the situation of the area in the studied domain after having read the book. Link it to the pre-reading model and align the two to help easy comparison.
Categories
Back to the Menu
Other read books linking to the GameTheoryAtWork page :
Back to the Menu