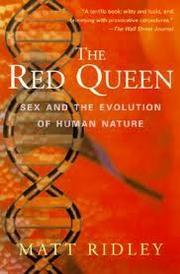 The Red Queen: Sex and the Evolution of Human Nature by Matt Ridley - ISBN 0060556579 - Perennial 2003 (first published in Great Britain in 1993 by Penguin Books)
note that this was finished much earlier but without recall, recall starts a month before the current date to already start with very spaced recalls
Motivation
Having read Geoffrey Miller's TheMatingMind and thinking The Red Queen was either a foundation of its main hypothesis or an alternative view.
Reading
See also
Overall remarks and questions
will understanding this process and its regularity still lead to the same situation anyway?

if we can leverage it to generate solutions but it remains a "natural law" then the generated solutions would still generate the process (coherent anyway with a pervasive evolutionary process)

what is Clark's opinion on the evolution of the cognitive scaffolding?
with such emphasis (here and in previously read books) on the importance of language and its specificity on grammar, does it announce the death of "natural interfaces" regarding their power? (but not regarding the simplicity and thus adoption rate)

consequently are we going back, again, to the debate between command-line interface (CLI) vs visual interface?

does chapter 3 The Power of Parasites also applies to all systems?
Vocabulary
(:new_vocabulary_start:) succor apocryphal pluck fallow barren chattel tussles heiress anathema parables meandering rung emetics exculpates flout adamantly (:new_vocabulary_end:)
Back to the Menu
Categories
Other read books linking to the TheRedQueen page :
Back to the Menu