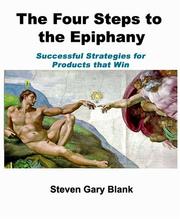 The Four Steps to the Epiphany by Steve Blanks - ISBN 0976470705 - CafePress 2006
Motivation
Describe in a sentences or two what motivated me to read this book.
Pre-reading model
Seems like the ontogenesis/corticogenesis problem : imaginating that the current system "has always been in this state" and (wrongly) applying it to corporations.
Consider MBE "mise en situ" as an exercise
Reading
See also
Overall remarks and questions
Synthesis
So in the end, it was about X and was based on Y.
Critics
Point A, B and C are debatable because of e, f and j.
Vocabulary
(:new_vocabulary_start:) new_word (:new_vocabulary_end:)
Post-reading model
Draw a schema (using PmGraphViz or another solution) of the situation of the area in the studied domain after having read the book. Link it to the pre-reading model and align the two to help easy comparison.
Categories
Back to the Menu