Ma 4eme reunion MBE (Mercredi le 7 Avril 2010).
Sujets principaux
Discussions ouvertes
atelier INRIA et venture capitalistes

meme erreurs chez la plupart des participants avec une formation technologique/ingenieur

negligeance du cote communication
sous-estimation des couts de production
sous-utilisation du capital mis a disposition pour essayer d'optimiser le budget alors que l'important est une croissance rapide

cf la presentation precedente MBE02#IntroductionVentureCapital

proposer un atelier d'application du BMI canvas
Case study HBR
The Dark Side of Customer Analytics, Harvard Business Review May 2007
How can these companies leverage the customer data responsibly?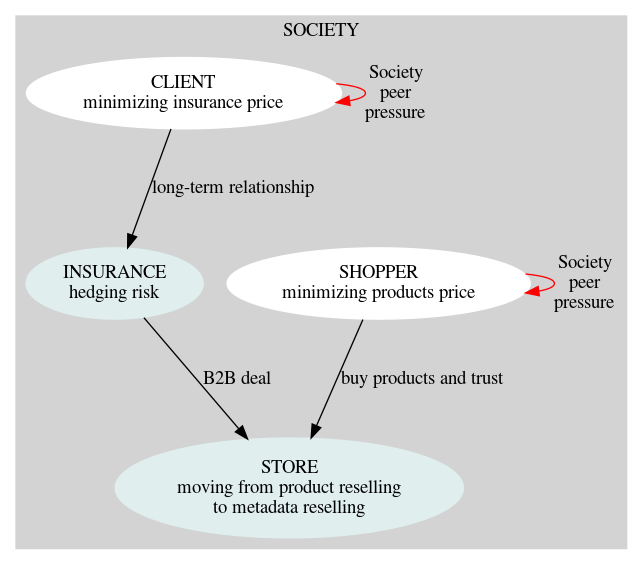 Society actually means mainly "Client" and "Shopper" and the pressure they will receive from their peers in order to make their buying decision.
oui car tout le monde s'est finalement habitue a partager ses donnes, meme si la plupart sont contre, les reductions suffisent a faire pencher la balance du bon cote
non car les risques sont trop eleves
Review Blue Ocean Strategy
ReadingNotes.BlueOceanStrategy

propose to apply the toolkit to a case
ideally use an HBR Case Study

la Nintendo Wii qui ouvre le marche aux retraites et femme suit-elle cette strategie ?

discussion sur le futur des consoles de jeux

risques

legislation et CNIL - Commission nationale de l'informatique et des libertÚs]]
analyse des information personelles

Wikipedia:Differential privacy "Linkage Attacks" with "the Netflix Database and the Massachusetts Group Insurance Commission (GIC) medical encounter database"

Seedea:Seedea/DATAmatrix
Discussions ouvertes
les langages informatiques
potentiel business a creer grace a l'iPad

location a la Cantine et autre espaces de collaboration en dehors des murs de l'entreprise
---
<< MBE03 | Retourner au 1er MBE | MBE05 >>