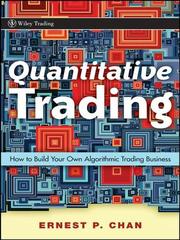 Quantitative Trading: How to Build Your Own Algorithmic Trading Business by Ernest Chan - ISBN 9780470284889 - Wiley 2008
Motivation
Discovering in Ghost in the Shell the idea of a fully automated trading system, letting it rest for few years then starting to organize links related to this idea (cf FinancialTools), offering a link to Sylvain then deciding to read it together.
Pre-reading model
Draw a schema (using PmGraphViz or another solution) of the situation of the area in the studied domain before having read the book.
Reading
Tables and figures
Sources of Trading Ideas (p10)
Academic
Financial web sites and blogs
Trader forums
Newspaper and magazines
See also
my FinancialTools page
Ernest Chang's blog Quantitative Trading Quantitative investment and trading ideas, research, and analysis
FOSS Trading Algorithmic Trading with Free Open Source Software
Automated Trading 2009: Backtesting and Optimization October 2009
The Misbehavior of Markets : A Fractal View of Financial Turbulence by Richard L. Hudson, Benoit B. Mandelbrot, Basic Books first edition 2004
trading-shim Frequently Asked Questions
Automated Trading System (ATS)
Communities
Yale Financial Markets (ECON 252)
Street Smarts CNBC.com 2007

Hedge funds using computer models to invest are taking a hit of late, with Ernest Chan, Quantitative trading consultant and CNBC's Dylan Ratigan

E. P. Chan & Associates Research page, including MATLAB source code
Journal of Computational Finance including its latest issue
Statistical Arbitrage: Algorithmic Trading Insights and Techniques by Andrew Pole, Wiley 2007
Automated Trader Algorithmic Trading Magazine
kaChing world's first marketplace to find great investors to emulate.
Covestor Follow proven investors on Covestor
Quants: The Alchemists of Wall Street Marije Meerman, VPRO Backlight 2010
USA Today: "The Machines Took Over (Wall Street)", Cyberpunk Review May 2010
academic research
[[#DesMathematiciensBoulevardDesItaliens]Des mathématiciens boulevard des Italiens by Emmanuel Ferrand, Images des mathématiques May 2010

publish your results?

yes to influence other actors in a predicable way
no to keep a competitive advantage
applied research

implemented and used internally first and foremost

see also Seedea:Research/StrategicalEpistemology

Computer-trading worries grow as NYSE builds new datacenter by Jon Stokes, ars technica 2009
Marketcetera Open Source Automated Trading Platform
Tools mentioned
Overall remarks and questions
Synthesis
So in the end, it was about X and was based on Y.
Critics
Point A, B and C are debatable because of e, f and j.
Vocabulary
(:new_vocabulary_start:) new_word (:new_vocabulary_end:)
Post-reading model
Draw a schema (using PmGraphViz or another solution) of the situation of the area in the studied domain after having read the book. Link it to the pre-reading model and align the two to help easy comparison.
Categories
Back to the Menu
Other read books linking to the QuantitativeTrading page :
Back to the Menu