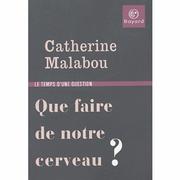 Que faire de notre cerveau ? by Catherine Malabout - ISBN 2227473053 - Bayard 2004
Motivation
Discovering it at the Vrin bookshop in front of La Sorbonne and consider it a rather interesting question if not necessarily grounded in experimental results like cognitive science.
Pre-reading model
Draw a schema (using PmGraphViz or another solution) of the situation of the area in the studied domain before having read the book.
Reading (written more than 6 months after)
Introduction - Plasticite et flexibilite, pour une conscience du cerveau (29 pages, 17%)

"Le cerveau est une oeuvre et nous ne le savons pas." (p7)

developpement de l'aspect object et sujet du cerveau (etude etymologique du concept de modeler, p16). Mise en contexte historique.

"il existe une historicite constituve du cerveau. Ce livre voudrait precisement en eveiller la conscience." (p8)
reference a l'Homme neuronal de Jean-Pierre Changeux, specialiste du domaine des neurosciences et du SNC (systeme nerveux central)

decrivant la decouverte du fonctionnement des neurones et de la synapse comme un evenement scientifique majeur du siecle dernier

"L'oeuvre propre du cerveau, qui engage l'aventure et l'histoire individuelles, porte un nom : la plasticite. Ce que nous avons nomme l'historicite constitutive du cerveau n'est autre en effet que sa plasticite." (p13)
lien entre fonctionnement neuronal et social

introduction de l'ouvrage Le nouvel esprit du capitalisme, de Luc Boltanski et Eve Chiapello (Coll. NRF Essais, Gallimard, 1999) avec entre autre l'organisation du travail
role de modelisation des comportements des ideologies, proposant une critique de l' ideologie neuronale (d'ou les nombreuses references au titre de l'ouvrage)
implication politique d'un tel constat

"la flexibilite est l'avatar ideologique de la plasticite" (p29)

"Il manque en effet a la flexibilite la resource de la donation de forme, le pouvoir de creer, d' inventer ou meme d' effacer une empreinte, le pouvoir de styler. La flexibilite est la plasticite moins son genie."(p30)

Premiere partie - Champs d'application de la plasticite (34 pages, 20%)

A - Entre determination et liberte
B - Des "trois" plasticites

Plasticite de developpement : la formation des connexions neuronales

reference a Marc Jeannerod sur le processus comment entre les differents cerveaux, une corticogenese similaire et pourtant toujours unique, a Jean-Pierre Changeux sur l'hecatombe neuronale et a Jean-Pierre Ameisen sur un organe qui continue d'evoluer

importance du contexte dans lequel se constitue donc le cerveau, l'ensemble des stimulations qu'il recoit
Plasticite de modulation : le cerveau et son histoire

reference a Donal Holding Hebb et son modele
potentialisation a long-terme (LTP ou PLT)
depression a long-terme (LTD ou DLT)

Plasticite de reparation : le cerveau et sa regenerescence

phenomenes de creation de nouveux neurones, renouvellement cellulaire, reorganisation postlesionelles

C - Sommes-nous libres d'etre performant
Early stage notes
Peut-on voir des espaces de libertes construits graduellement, suite a des processus evolutifs, sur des espaces plus contraints, plus limitatifs,
Pourrait-on ainsi considerer le cerveau et son extraordinaire plasticite comme un tel espace ? (utilise pour sortir du determinisme biologique malgre son "coup energetique" extremement eleve pour un etre biologique)
Pourrait-on ainsi considerer une societe democratique offrant a ses membres un tres grand niveau de liberte de choix dans leurs actions, tout du moins theoriquement, un tel espace ? (utilise pour sortir du determinisme social malgre la necessite de chacun a perdre une partie de son pouvoir/controle sur autrui)
Pourrait-on ainsi considerer Internet ou tout espace virtuel comme un tel espace ? (utilise pour sortir finallement de toute forme de determinisme en offrant le maximum de libertes)
Chacun de ces espaces etant historiquement le resultat d'un processus evolutif general applique au medium du vivant (la constitution du cerveau de l'etre biologique offrant toujours plus de liberte), au medium social (l'organisation des interactions des etres vivants pour augmenter constamment les possibilites) et finallement au medium de l'information. Ces espaces etant bien evidement inter-dependants les uns des autres.
Ces espaces offrent ainsi des possibilites toujours plus importantes pour le processus general d'evolution essayant constament (sans necessite de conscience propre) de ne jamais se limiter.
I was then probably thinking along the lines of Interet layers (see the OSI model) and complexity. For example using Onion services/Freenet/... but also SecondLife. See my resulting LayeredModel.
See also
Overall remarks and questions
Synthesis
So in the end, it was about X and was based on Y.
Critics
Point A, B and C are debatable because of e, f and j.
Vocabulary
(:new_vocabulary_start:) new_word (:new_vocabulary_end:)
Post-reading model
Draw a schema (using PmGraphViz or another solution) of the situation of the area in the studied domain after having read the book. Link it to the pre-reading model and align the two to help easy comparison.
Categories
Back to the Menu
Other read books linking to the QueFaireDeNotreCerveau page :
Back to the Menu